---
Similac has EarlyShield, and is designed to support baby's brain and eyes, immune system and strong bones. In addition to having DHA/ARA, Similac has lutein, an important nutrient infants can get from breast milk and Similac.
Lutein and vision
Lutein concentrates in the eye.1,2 Emerging science demonstrates that lutein helps protect important cells in the eye.1,3-5
Lutein works in two ways:1,5
Protects eyes by absorbing potentially damaging light1
Protects against oxidative damage4
Lutein is 1,000 times more concentrated in the eye than in the blood.1,2 Lutein specifically concentrates in the macula,1,2 which is involved in relaying information to the visual cortex of the brain.6-8
A few facts about the development of baby's vision:
A baby's first view of the world is often blurry.9 By two months, a baby sees bold images and contrast.10 At four months, baby's eyes work together to see depth and distance.10 At six months, baby sees the world pretty much as adults do, and every day brings a new discovery.11,12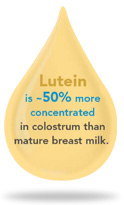 Breast milk and lutein: a strong bond
Breastfed infants receive colostrum during the first few days of life. Colostrum is highly concentrated with important nutrients, and is specially designed to meet a newborn's needs after birth. Research has shown lutein is nearly 50% more concentrated in colostrum than in mature breast milk;13 however, mature breast milk still provides babies with lutein.
Lutein in the infant brain
New research provides evidence that lutein and other carotenoids are present in the infant brain. The average concentration of lutein was significantly greater than the other carotenoids in the brain regions evaluated.14
These results prove that lutein is the predominant carotenoid present in regions of the brain assessed that are important for learning14 and development:
The auditory cortex is involved in processing sounds and language development.

The occipital cortex is located in the occipital lobe, which contains the brain's visual-processing system.

The frontal cortex is part of the frontal lobe, which is known to be responsible for problem solving and motor function

The hippocampus is known to be important for memory functions.
These significant findings support that during this critical time, lutein may play a role in the developing infant brain.
Lutein sources
Lutein is only available through dietary sources and cannot be made by the body. Breastfeeding mothers should make sure to eat a healthy, balanced diet, including foods with lutein, such as spinach and eggs. Prior to the introduction to solid foods, infants can get lutein from breast milk and Similac®.
Similac has lutein.
Similac offers a family of formulas that have EarlyShield, so even infants with sensitive tummies can benefit from options that support brain and eye development: Similac Sensitive® and Similac® Soy Isomil®.
Learn more about lutein
As you can see, there are many reasons to recommend Similac formula to your patients. To learn more about the benefits of lutein, see our videos and research documents below.
1 Krinsky NI, et al. Annu Rev Nutr. 2003; 23:171-201.
2 Landrum JT, et al. Arch Biochem Biophys. 2001; 385:28-40.
3 Li SY, et al. Invest Ophthalmol Vis Sci. 2009 Feb;50(2):836-43.
4 Chucair AJ, et al. Invest Opthalmol Vis Sci. 2007; 48:5168-5177.
5 Bone RA, et al. Exp Eye Res. 1997 Feb;64(2):211-8.
6 Endo S, et al.IEEE Trans Med Imaging. 1997; 16:252-260.
7 Fanaroff AA, et al, eds. Neonatal-Perinatal Medicine: Diseases of the Fetus and Infant. 5th ed. St. Louis, MO. Mosby Year Book; 1992; 1359-1365.
8 McFadzean, et al. Br J Ophthalmol. 1994; 78:185-90.
9 Haynes H, et al. Science. 1965; 23:528-530.
10 American Optometric Association Consensus Panel on Pediatric Eye and Vision Examination. Optometric Clinical Practice Guideline: Pediatric Eye and Vision Examination. 2nd ed. St. Louis, MO: American Optometric Association; 2002; 1-60.
11 Banks MS, Aslin RN, Letson RD. Science. 1975; 190:675-7
12 Birch EE, Hale LA. Clin Vis Sci 1989; 4:295-300.
13 Schweigert FJ, et al. Eur J Nutr. 2004; 43:39-44.
14 Vishwanathan R, et al. Lutein is the predominant carotenoid in the infant brain. Acta Biologica Cracoviensia 2011; 53 (suppl 1). Abstract 1.23, presented at the International Symposium on Carotenoids, July 2011.    
---
Lutein Videos


---
Lutein Studies


Position statement on lutein and its role in cognition and eye health (PDF 167 KB).
The Science and Nutrition Advisory Board
The actions of xanthophylls and DHA in developing optimal ocular health during early life are potentially important; xanthophylls also function to maintain optimal health of the eye and brain throughout all stages of life.