EleCare® (for Infants)
*
Nutritionally Complete Amino Acid-Based Infant Formula with Iron
EleCare is indicated for the dietary management of protein maldigestion, malabsorption, severe food allergies, short-bowel syndrome, eosinophilic GI disorders, GI-tract impairment, or other conditions in which an amino acid-based diet is required.
For infants 0-12 months of age.


Similac Expert Care® Alimentum®
Hypoallergenic Infant Formula with Iron
Hypoallergenic; contains a predigested protein to virtually eliminate allergic reactions in most babies who are allergic to cow's milk protein.
Hydrolyzed casein supplemented with free amino acids for infants who are sensitive to or unable to digest intact protein.


Similac Expert Care® for Diarrhea
Infant formula for the dietary management of diarrhea
First and only nutritionally complete infant formula to contain added dietary fiber (soy) specifically for dietary management of diarrhea (6 g/L).
Clinically shown to reduce the duration of loose, watery stools during mild to severe diarrhea in older infants.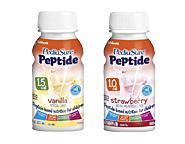 PediaSure® Peptide 1.0 Cal
*
Peptide-Based Nutrition for Children
For oral or tube feeding.