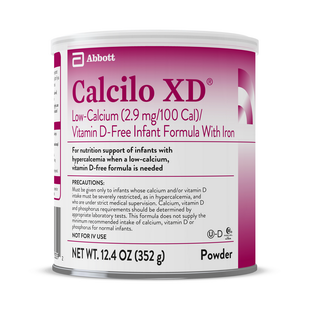 Calcilo XD®
Low-calcium (2.9 mg/100 Cal)/vitamin D-free infant formula with iron
Nutrition support of infants with hypercalcemia, as may occur in infants with Williams syndrome, osteopetrosis, and primary neonatal hyperparathyroidism, and when a low-calcium, vitamin D-free formula is needed. Use under medical supervision.
Hospitals and institutions can order Abbott Nutrition products by calling 800-551-5838, Monday – Friday, 8:00 a.m. to 5:30 p.m. ET.
Established Abbott accounts can register and order online at e-Abbott.com.
AVAILABILITY
53328
Calcilo XD / 12.4 oz (352 g) Can / 6 ct
FEATURES
The only commercially available formula for the management of hypercalcemia in infants.
No vitamin D.
Only a minimal amount of calcium (15 mg/100 g powder; 2.9 mg/100 Cal).
Nutritionally complete—when prepared as directed, meets the American Academy of Pediatrics Committee on Nutrition recommendations for all nutrients including vitamins and minerals except calcium, vitamin D and phosphorus.
L-carnitine (7 mg/100 g) and taurine (35 mg/100 g).
Eliminates the need to prepare a modular formula.
Lactose-free.
Gluten-free.
Kosher.
Halal.
PRECAUTIONS
Must be given only to infants whose calcium and/or vitamin D intake must be severely restricted, as in hypercalcemia, and who are under strict medical supervision. Calcium, vitamin D and phosphorus requirements should be determined by appropriate laboratory tests. This formula does not supply the minimum recommended intake of calcium, vitamin D or phosphorus for normal infants.
Not for IV use.
Never use a microwave oven to warm formula. Serious burns can result.
Powdered infant formulas are not sterile and should not be fed to premature infants or infants who might have immune problems unless directed and supervised by your baby's doctor.
PREPARATION
Directions for Preparation and Use: Use Only As Directed by a Physician

Your baby's health depends on carefully following these directions. Proper hygiene, handling and storage are important when preparing infant formula. Failure to follow these directions could result in severe harm. Ask your baby's doctor if you need to use cooled, boiled water for mixing and if you need to boil (sterilize) bottles, nipples and rings before use.

Wash your hands, surfaces and utensils. Pour desired amount of water into clean bottle (see mixing guide).
Add 1 unpacked level scoop (8.6 g) to each 2 fl oz of water Return dry scoop to can.
Cap bottle; shake well; attach nipple.

Once feeding begins, use within 1 hour or discard.


Mixing Guide


| | | |
| --- | --- | --- |
| Measure Water | Add scoop(s) of unpacked level powder using enclosed scoop | Finished Bottle (approx) |
| 2 fl oz | 1 scoop (8.6 g) | 2 fl oz |
| 4 fl oz | 2 scoops | 4 fl oz |
| 6 fl oz | 3 scoops | 6 fl oz |

To make a larger amount of formula at standard measuring cup,

add 1 unpacked, level cup (NOT the enclosed scoop) of powder (105 g) to 24 fl oz of water.
Yields approximately 26 fl oz of formula.
Pour prepared formula into individual feeding bottles, cap and store in refrigerator.

Prepared formula should not be left unrefrigerated.
When mixed as directed, the contents of one can will make approximately 89 fl oz of formula at 20 Cal/fl oz.
Storage & Handling
Powder

Once mixed, store bottles or container in refrigerator and feed to baby or child within 24 hours
Store unopened or opened can at room temperature; avoid extreme temperatures.
Use opened can contents within 1 month.
NUTRITION
Unflavored Powder
Calcilo XD / 12.4 oz (352 g) Can / 6 ct
Serving size: 100 Cal (5 fl oz, prepared as directed)
Amount per Serving
% DV
% RDI
Potential Renal Solute Load, mOsm
18
 
 
Thiamin (Vitamin B1), mcg
100
 
 
Riboflavin (Vitamin B2), mcg
150
 
 
Folic Acid (Folacin), mcg
15
 
 
Pantothenic Acid, mcg
450
 
 
Vitamin C (Ascorbic Acid), mg
9
 
 
Unflavored Powder
Calcilo XD / 12.4 oz (352 g) Can / 6 ct
Serving size: 100 g Powder
Amount per Serving
% DV
% RDI
Potential Renal Solute Load, mOsm
94
 
 
Thiamin (Vitamin B1), mcg
513
 
 
Riboflavin (Vitamin B2), mcg
770
 
 
Folic Acid (Folacin), mcg
77
 
 
Pantothenic Acid, mcg
2300
 
 
Vitamin C (Ascorbic Acid), mg
46
 
 
INGREDIENTS
Unflavored Powder
Calcilo XD / 12.4 oz (352 g) Can / 6 ct
Corn Syrup, Coconut Oil, Corn Oil, Whey Protein Concentrate, Sodium Caseinate. Less than 1.0% of: Potassium Phosphate, Magnesium Chloride, Potassium Chloride, Potassium Citrate, Ascorbic Acid, Inositol, Salt, Choline Chloride, Ferrous Sulfate, Potassium Hydroxide, Taurine, Zinc Sulfate, L-Carnitine, d-Alpha-Tocopheryl Acetate, Niacinamide, Calcium Pantothenate, Vitamin A Palmitate, Copper Sulfate, Thiamine Hydrochloride, Riboflavin, Pyridoxine Hydrochloride, Folic Acid, Manganese Sulfate, Potassium Iodide, Phylloquinone, Biotin, Sodium Selenate, and Vitamin B12.
Contains milk ingredients.
NEED MORE INFORMATION?
To be connected with an Abbott Nutrition Sales Representative, click the link above or call:
1-800-551-5838
Our product experts will be happy to assist you.