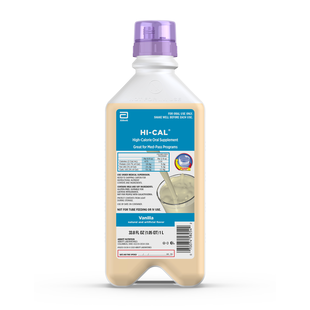 Hi-Cal®
High-calorie oral supplement
HI-CAL is a high-calorie oral supplement fortified with vitamins and minerals. For oral use only. Use under medical supervision.
Hospitals and institutions can order Abbott Nutrition products by calling 800-551-5838, Monday – Friday, 8:00 a.m. to 5:30 p.m. ET.
Established Abbott accounts can register and order online at e-Abbott.com.
AVAILABILITY
58253
Hi-Cal Vanilla / 33.8 fl oz (1 L) Bottle / 8 ct
FEATURES
2 Cal/mL.
Vanilla flavor, ready to serve.
1-L plastic bottle is reclosable.
Kosher.
Halal.
Gluten-free.
Suitable for lactose intolerance.
Provides at least 20% of the RDIs for 18 essential vitamins and minerals in 8 fl oz; great for Med-Pass programs.
PRECAUTIONS
Not for tube feeding.
Not for IV use.
Not suitable for people with galactosemia.
PREPARATION
Instructions for Use:

Clean off the top of the container thoroughly before opening.
Shake the bottle very well.
Twist off cap. Do not use if inner foil is missing or broken.
Invert cap and place on the foil seal.
Press the cap down to pierce the foil seal, then turn the cap a half turn.
Lift off and throw away the foil.
Pour and serve.




Storage & Handling
Usage

Store unopened at room temperature.
Do not store at extreme temperatures.
Tastes best chilled, or can be served at room temperature.
Once opened, reclose, label with time and date, refrigerate, cover and use within 48 hours.
Opened containers that are held at room temperature can be used for 4 hours. Discard unused portion after 4 hours at room temperature.
Opened product that has been held at room temperature for up to 1 hour should be reclosed, labeled with time and date, refrigerated, and used within 48 hours.




NUTRITION
Vanilla Ready to Feed
Hi-Cal Vanilla / 33.8 fl oz (1 L) Bottle / 8 ct
Serving size: 8 fl oz (237 mL)
Amount per Serving
% DV
% RDI
Thiamin (Vitamin B1), mg
0.3
 
 
Riboflavin (Vitamin B2), mg
0.34
 
 
INGREDIENTS
Vanilla Ready to Feed
Hi-Cal Vanilla / 33.8 fl oz (1 L) Bottle / 8 ct
Water, Corn Syrup Solids, Sodium Caseinate, Corn Oil, Corn Maltodextrin, Sugar. Less than 0.5% of: Potassium Citrate, Calcium Caseinate, Magnesium Chloride, Natural and Artificial Flavors, Calcium Phosphate, Soy Lecithin, Sodium Citrate, Ascorbic Acid, Choline Chloride, Potassium Hydroxide, Zinc Sulfate, Ferrous Sulfate, dl-Alpha-Tocopheryl Acetate, Niacinamide, Calcium Pantothenate, Manganese Sulfate, Copper Sulfate, Thiamine Hydrochloride, Pyridoxine Hydrochloride, Vitamin A Palmitate, Riboflavin, Folic Acid, Chromium Chloride, Biotin, Sodium Molybdate, Potassium Iodide, Sodium Selenate, Phylloquinone, Vitamin D3, and Vitamin B12.
Contains milk and soy ingredients.
NEED MORE INFORMATION?
To be connected with an Abbott Nutrition Sales Representative, click the link above or call:
1-800-551-5838
Our product experts will be happy to assist you.