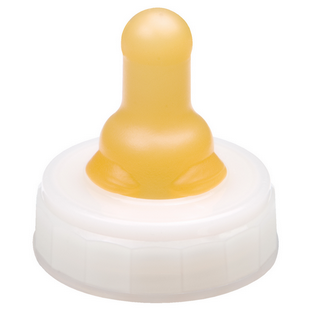 Nipples
Provides the flexibility to choose a ready-for-use nipple and ring that match each infant's sucking strength or need. Infant (latex-free)—for infants with developed sucking strength. Premature (latex-free)—for preterm infants with less developed sucking strength. Orthodontic (contains latex)—for newborn infants, to stimulate oral exercise while feeding. Slow Flow (latex-free)-to support the underdeveloped "suck-swallow-breath" coordination of preterm infants. Provides a more controlled flow rate vs faster-flow nipples for increased physiological stability and a more efficient sucking pattern.1
1 Chang YJ, et al. J Nurs Res. 2007;150(3):215-223.
Hospitals and institutions can order Abbott Nutrition products by calling 800-551-5838, Monday – Friday, 8:00 a.m. to 5:30 p.m. ET.
Established Abbott accounts can register and order online at e-Abbott.com.
AVAILABILITY
00079
Similac Infant Nipple & Ring / 250 ct
50512
Similac Orthodontic Nipple & Ring / 250 ct
00094
Similac Premature Nipple & Ring / 250 ct
53894
Similac Slow Flow Nipple & Ring / 250 ct
FEATURES
Easy to use.
Nipples and rings individually prepackaged and ready for use.
Easy, effective venting system.
Facilitates latching and consistent flow.
Disposable—not for reuse.
PRECAUTIONS
DO NOT use as a pacifier, as it presents a choking hazard.
DO NOT reuse, as reuse can cause deterioration or separation of the rubber, presenting a choking hazard.
Keep out of reach of children.
NEED MORE INFORMATION?
To be connected with an Abbott Nutrition Sales Representative, click the link above or call:
1-800-551-5838
Our product experts will be happy to assist you.