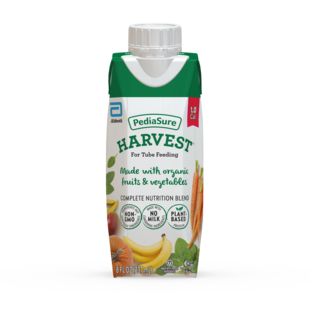 PediaSure Harvest™
Complete nutrition blend made with organic fruits & vegetables
PEDIASURE HARVEST is a complete nutrition blend with plant-based protein for tube feeding, including a variety of organic ingredients from banana, spinach, mango, pumpkin, and carrot. Formulated for tube feeding; may also be fed orally. May be used as the sole source of nutrition or as a supplement. Use under medical supervision.
Hospitals and institutions can order Abbott Nutrition products by calling 800-551-5838, Monday – Friday, 8:00 a.m. to 5:30 p.m. ET.
Established Abbott accounts can register and order online at e-Abbott.com.
AVAILABILITY
67962
PediaSure Harvest / 8 fl oz (237 mL) Recloseable Carton / 24 ct
FEATURES
Provides 6 servings* of combined organic fruits and vegetables per liter.
Provides 4 servings† of organic whole grains per liter.
Provides a good source of plant-based protein from soy and organic rice.
Meets or exceeds 100% of the DRIs for protein and 25 essential vitamins and minerals

in 1000 mL for children 1 to 8 years of age.
in 1500 mL for children 9 to 13 years of age.

Made with no milk-, gluten- or lactose-containing ingredients.
15% of calories from protein.
From the makers of PediaSure®, the #1 pediatrician recommended brand.
No artificial colors or flavors.
Gluten-free.
Non-GMO.‡
PRECAUTIONS
KEEP CAP OUT OF REACH OF SMALL CHILDREN - cap may present a choking hazard.
Not intended for infants under 1 year of age unless specified by a physician.
Not for IV use.
* 1 serving=1/2 cup
† 1 serving=1 oz eq
‡ Ingredients not genetically engineered.
PREPARATION
Instructions for Use:

Follow physician's instructions.
Bolus feeding only.
Shake very well.
For optimal results, administer at room temperature.
Additional fluid may be required.
Storage & Handling
Instructions for Storage:

Store unopened at room temperature.
Once opened, reclose, refrigerate and use within 24 hours.
NUTRITION
Unflavored Ready to Use
PediaSure Harvest / 8 fl oz (237 mL) Recloseable Carton / 24 ct
Serving size: 8 fl oz (237 mL)
Amount per Serving
% DV
% RDI
Monounsaturated Fat, g
3.5
 
 
Thiamin (Vitamin B1), mg
0.3
 
 
Riboflavin (Vitamin B2), mg
0.3
 
 
INGREDIENTS
Unflavored Ready to Use
PediaSure Harvest / 8 fl oz (237 mL) Recloseable Carton / 24 ct
Water, Organic Mango Puree, Organic Spinach Puree, Organic Milled Whole Grain Brown Rice, Organic Pumpkin Puree, Organic Banana Puree, Organic Rice Maltodextrin, Soy Protein Isolate, Soy Oil, High Oleic Safflower Oil, Organic Rice Protein Concentrate, Organic Carrot Juice Concentrate. Less than 0.5% of: Soy Lecithin, L-Lysine, C. Cohnii Oil, Taurine, L-Carnitine, Calcium Phosphate, Potassium Chloride, Potassium Hydroxide, Ascorbic Acid, Choline Chloride, Ferrous Sulfate, dl-Alpha-Tocopheryl Acetate, Zinc Sulfate, Niacinamide, Calcium Pantothenate, Thiamine Hydrochloride, Biotin, Pyridoxine Hydrochloride, Riboflavin, Vitamin B12, Vitamin D3, Folic Acid, and Potassium Iodide.
Contains soy ingredients.
NEED MORE INFORMATION?
To be connected with an Abbott Nutrition Sales Representative, click the link above or call:
1-800-551-5838
Our product experts will be happy to assist you.