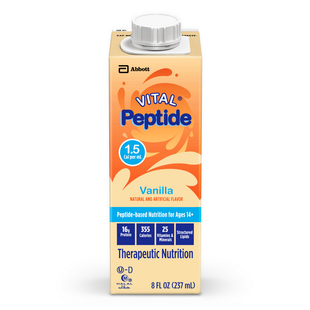 Vital® Peptide 1.5 Cal
Calorically dense, therapeutic nutrition to support GI tolerance
VITAL PEPTIDE 1.5 CAL is a nutritionally complete, peptide-based formula for the nutrition needs of patients ages 14+ years with malabsorption, maldigestion, and other GI conditions. For tube or oral feeding. For supplemental or sole-source nutrition. Use under medical supervision.
Hospitals and institutions can order Abbott Nutrition products by calling 800-551-5838, Monday – Friday, 8:00 a.m. to 5:30 p.m. ET.
Established Abbott accounts can register and order online at e-Abbott.com.
AVAILABILITY
66236
Vital Peptide 1.5 Van / 8-fl-oz (237-mL) Carton / 24 ct
FEATURES
Nutrient Blend designed to help support tolerance and absorption.

Hydrolyzed whey-dominant protein.
NutraFlora® scFOS®,* a prebiotic fiber.
Structured lipids.

Complete, Balanced Nutrition®.
1000 IU/L Vitamin D.
Antioxidants (Vitamins C, E, and selenium).
Meets or exceeds 100% of the DRIs for protein and 25 essential vitamins and minerals for patients 14 to 18 years of age in 1000 mL; for patients 18+ years of age in 1200 mL.
Kosher.
Halal.
Suitable for lactose intolerance.
Gluten-free.
PRECAUTIONS
Not for IV use.
Not for people with galactosemia.
* NutraFlora® scFOS® are not registered trademarks of Abbott Laboratories.
PREPARATION
Instructions for Use:

Shake very well.
Store unopened at room temperature.
Once opened, reclose, refrigerate and use within 48 hours.


Oral Feeding:

Best when chilled.
May be used for total or supplemental nutrition.


Tube Feeding:

Follow physician's instructions.
Adjust flow rate and volume according to patient's condition and tolerance.
Additional fluid may be required.
NUTRITION
Vanilla Ready to Drink
Vital Peptide 1.5 Van / 8-fl-oz (237-mL) Carton / 24 ct
Serving size: 8 fl oz (237 mL)
Amount per Serving
% DV
% RDI
Thiamin (Vitamin B1), mg
0.5
 
 
Riboflavin (Vitamin B2), mg
0.5
 
 
* 1.4 g of dietary fiber supplied by short-chain fructooligosaccharides.
INGREDIENTS
Vanilla Ready to Drink
Vital Peptide 1.5 Van / 8-fl-oz (237-mL) Carton / 24 ct
Water, Corn Maltodextrin, Whey Protein Hydrolysate, Structured Lipid (Interesterified Canola Oil & Medium Chain Triglycerides), Sugar, Hydrolyzed Sodium Caseinate, Medium-Chain Triglycerides, Canola Oil, Short-Chain Fructooligosaccharides, Natural & Artificial Flavors, Magnesium Phosphate, DATEM, Calcium Phosphate, Potassium Citrate, Potassium Chloride, Cellulose Gel, Calcium Carbonate, Choline Chloride, Ascorbic Acid, Sodium Phosphate, Sucralose, Carrageenan, Cellulose Gum, Sodium Citrate, Taurine, Ferrous Sulfate, d-Alpha-Tocopheryl Acetate, Zinc Sulfate, L-Carnitine, Niacinamide, Calcium Pantothenate, Manganese Sulfate, Copper Sulfate, Thiamine Hydrochloride, Pyridoxine Hydrochloride, Riboflavin, Vitamin A Palmitate, Folic Acid, Biotin, Sodium Selenate, Sodium Molybdate, Potassium Iodide, Phylloquinone, Chromium Chloride, Vitamin D3, and Vitamin B12.
Contains milk ingredients.
NEED MORE INFORMATION?
To be connected with an Abbott Nutrition Sales Representative, click the link above or call:
1-800-551-5838
Our product experts will be happy to assist you.